Elstrella Meia Lua
HP ALI x ELLARA EL LUDJIN 2017 GREY PUREBRED MARE
An influence known around the globe, from the program created by Lenita Perroy of Haras Meia Lua. Al Jood Stud is proud to add a piece of history and unique influence into their program and hope to build the next generation of the Jamaal legacy through the aquisition of Ellara El Ludjin sired by Ludjin El Jamaal and out of Elle Dorada (Enzo x El Dorada PASB by Sanadik El Shaklan) and her daughter Elstrella Meia Lua, a 2017 born filly sired by HP Ali (HP Shakir TE x HP Miranda by ST Synbad) and out of Ellara El Ludjin.
Elstrella was recently shown at her first two shows and dominated, crowned Gold Champion Filly Central Florida Arabian Spring Classic show and Region 12 Gold Champion Arabian Two Yr old filly.
Make sure to follow Elstrella as she embarks her global journey as one of the last horses bred from this worldwide acknowledged breeding program that is Haras Meia Lua, Brazil alongside Al Jood Stud, Qatar.
Show results;
– 2019 Region 12 Gold Champion Arabian Two Yr old filly.
– 2019 Gold Champion Filly Central Florida Arabian Spring Classic show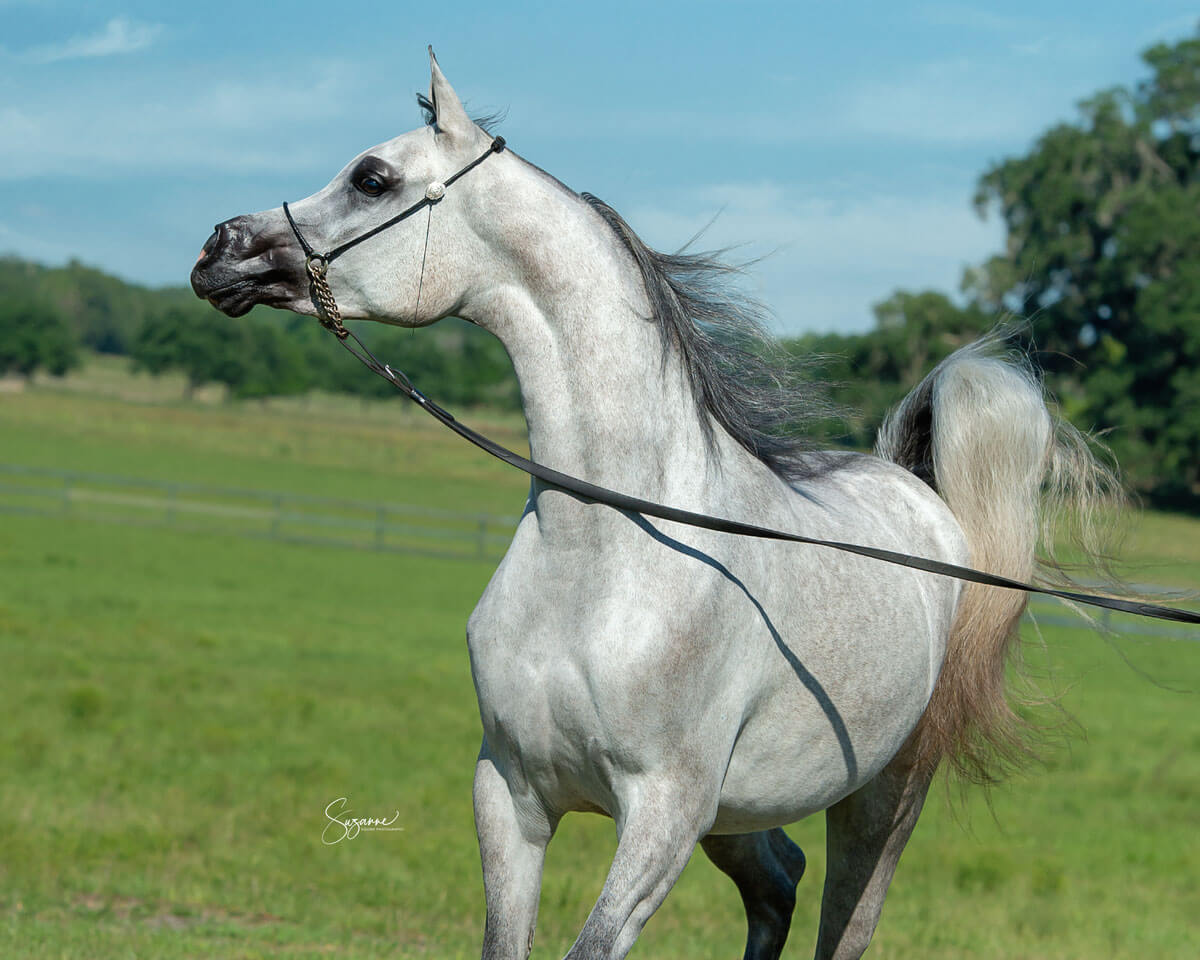 Elstrella Meia Lua
HP ALI
gr 2013
HP SHAKIR TE
ch 2010
HP MIRANDA
gr 2005
LC FARID
b 2001
DESTINEE
gr 1997
ST SYNBAD
gr 1995
ZT SHAKBAHJRMA
gr 1994
PALISSADE
b 1995
SAN JOSE CAMILA
b 1996
CAJUN PRINCE HCF
b 1989
ILLUSION ELS
gr 1993
HALUX
b 1988
ST SAFIRA
gr 1988
EL SHAKLAN
gr 1975
ZT BAHJRMANA
gr 1990
ELLARA EL LUDJIN
gr 2010
LUDJIN EL JAMAAL
gr 1989
ELLE DORADA
gr 2006
ALI JAMAAL
b 1982
LYDIRA EL SHAKLAN
gr 1982
ENZO
ch 1999
EL DORADA PASB
gr 1998
RUMINAJA ALI
gr 1976
HERITAGE MEMORY
b 1971
EL SHAKLAN
gr 1975
LYDIA
gr 1978
PADRONS PSYCHE
ch 1988
RD BEY SHAHMPANE
gr 1992
SANADIK EL SHAKLAN
gr 1983
EMIGRANTKA
gr 1985