Hiyam Al Jood
Magic Dream Cahr x FS Hibah El Perseus 2013 Bay purebred mare
Hiyam Al Jood is one of the first mares bred by the Al Jood breeding program.
She is the result of a paring that happened in South Africa, where Al Jood Stud acquired Hiyam's dam, FS Hibah El Perseus whom was shortly after bred by Al Jood Stud and confirmed in foal to Magic Dream cahr, shortly after she was exported to France where she foaled Hiyam Al Jood.
From France their ways separated as Hiyam Al Jood made her travels early on to the Al Jood home farm in Qatar, and Hibah went on with her journey to the USA where is became a breeding mare for Al Jood in the following years.
Hibah herself a refined 2008 born daughter sired by Perseus El Jamaal, she is typical of Brazilian breeding, a tall, bold moving, correct mare embodying the conformation of Ali Jamaal and the blow and snort of Bey Shah, characteristics appreciated around the world which she produced in her daughter Hiyam.
Hiyam's sire Magic Dream has to be one of the most influential sires Canada has ever produced. A direct son of the all time great Ali Jamaal out of the enticing dam The DreamSpinner by Aristo Kossak. He is a U.S. and Canadian National Top Ten, Scottsdale Champion and sire & grandsire of numerous National and Scottsdale Champions, Magic Dream has left his mark in the history books. His foals have gone on to fantastic success in the show ring and their importance is well recognised in breeding programs around the world.
So far Hiyam has proven to be a remarkable mare giving the best of herself to the next generation for the Al Jood program.
In 2018 she foaled an exquisite bay filly that was named Haneen Al Jood, a filly sired by Hakeem Al Shaqab, a direct son of the legendary Thee Desperado and out of one of Marwan Al Shaqab's best daughters worldwide Abha Myra out of ZT Ludjkalba. The cross was so unique and worked so well that we tried it one more time and were rewarded with a beautiful full sibling colt in 2019 named Alada'am Al Jood.
Two extremely high quality foals that are just the beginning for this exciting lineage.
Hiyam Al Jood is bred and owned by Al Jood Stud.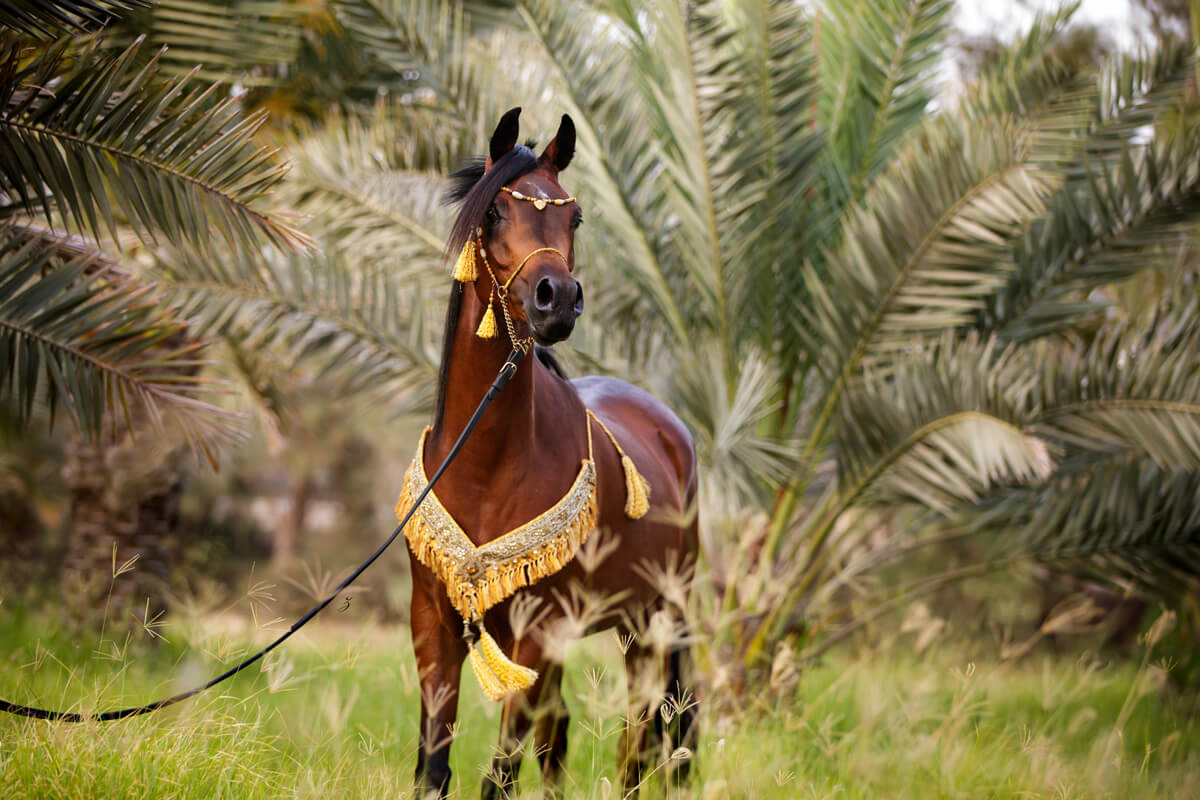 Hiyam Al Jood
MAGIC DREAM CAHR
br 1992
ALI JAMAAL
b 1982
THE DREAMSPINNER
b 1984
RUMINAJA ALI
gr 1976
HERITAGE MEMORY
b 1971
ARISTO KOSSAK
b 1976
MYRILINAN ACLEDO
gr 1974
SHAIKH BADI
gr 1969

BINT MAGIDAA
gr 1970

EL MAGATO
gr 1961

HERITAGE LABELLE
gr 1964

ARISTON
b 1970
FOUR WINDS KALIFA
b 1971
GAI-ADVENTURE
gr 1967
JEM MAR AMYRI
gr 1970
FS HIBAH EL PERSEUS
ch 2008
PERSEUS EL JAMAAL
blk 2002
HAYA REYNA
gr 2002
ALI JAMAAL
b 1982
PERFECTSHAHN SRA
b 1995
BF RENAISSANCE
b 1993
HALYNE EL JAMAAL
gr 1994
RUMINAJA ALI
gr 1976

HERITAGE MEMORY
b 1971

BEY SHAH
b 1976

LADY TANZEER
gr 1990

BEY SHAH
b 1976
BF GAFFI SILIETTE
b 1983
ALI JAMAAL
b 1982
HILAH EL SHAKLAN
gr 1986