Kayaan Al Waab
SINAN AL RAYYAN X BAHRIYA AL WAAB 2015 GREY STRAIGHT EGYPTIAN STALLION
From within a dynamic molecular cloud far out in space, a young protostar gathers mass, nourished by its nebulous womb. As it develops, it begins to emerge as a powerful source of energy, utilizing every contribution that is drawn into its presence. In a similar way, Kayaan Al Waab has been cultivated as a rising star in the Al Jood firmament.
Thoughtfully bred by Sheikh Abdulla Bin Khaled Bin Hamed Al Thani at Al Waab Stud in Qatar, Kayaan Al Waab has a carefully crafted pedigree packed with powerhouses of straight Egyptian breeding. Foaled in 2015, he is a stunning, young silver-grey straight Egyptian stallion who brings to the Al Jood collection a magnificent tapestry of 72 crosses to the mighty Nazeer. His father, Sinan Al Rayyan, descends from the exotic and beloved Nazeer son Morafic. Sinan's dam Al Wajba Al Rayyan is also the dam of Amaar Al Rayyan, by Ashhal Al Rayyan. Amaar is himself the sire of the lovely 2015 Rabab International Gold Champion Mare, Baidaa El Gabry, among his outstanding progeny.
Both Sinan Al Rayyan and Kayaan's dam Bahriya Al Waab carry a tail female line that passes through the great producer Ansata Bint Bukra, an influence that can be seen in each generation. Bahriya is herself a daughter of Ashhal Al Rayyan, further proof of the validity of this vibrant cross. Her grand-dam, Helala, springs from the straight Egyptian breeding program of Dr. Nagel in Germany, who preserved Bint Bukra's legacy in Europe.
The time is ripe for Kayaan Al Waab to take his place among the horses of Al Jood Stud: as a show horse, as a sire—as a star.
Standing at Al Jood Stud, Qatar.
CA-OAAM-LFS-SCID clear.
Bred by Al Waab Farm, Qatar.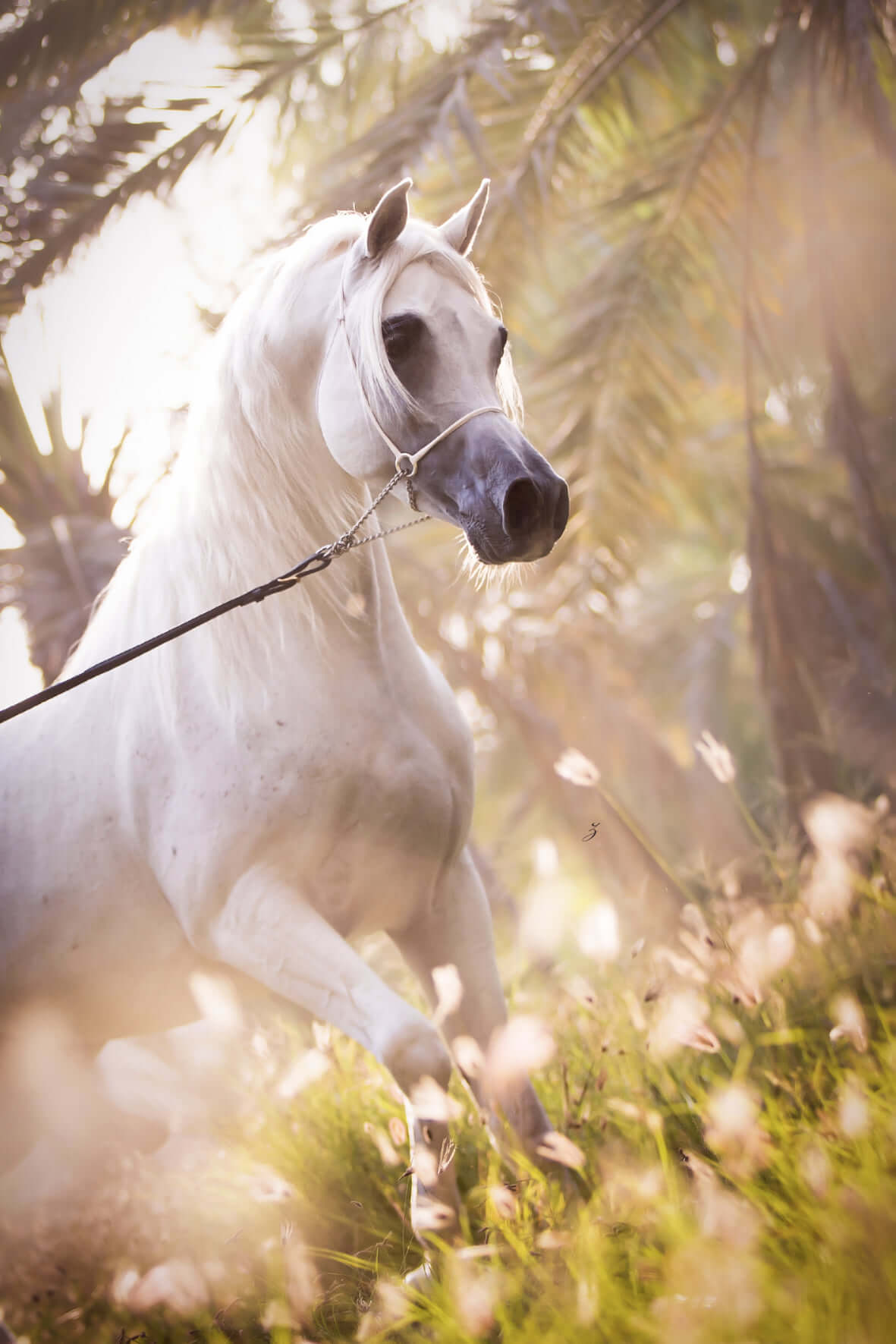 Kayaan Al Waab
SINAN AL RAYYAN
gr 2002
ANSATA SINAN
gr 1992
AL WAJBA AL RAYYAN
gr 1996
PRINCE FA MONIET
gr 1981
ANSATA NEFARA
gr 1988
SAFIR
gr 1991
ANSATA SHARIFA
gr 1987
THEEGYPTIANPRINCE
gr 1967
FA MONIET
gr 1967
ANSATA HALIM SHAH
gr 1980
ANSATA SUDARRA
gr 1982
SALAA EL DINE
gr 1985
AISHA
gr 1985
ANSATA IBN SHAH
gr 1977
ANSATA SAMANTHA
ch 1979
BAHRIYA AL WAAB
gr 2008

ASHHAL AL RAYYAN
gr 1996
NK ASHMAHAN
gr 2000
SAFIR
gr 1991
ANSATA MAJESTA
gr 1989
SHAHIN
gr 1990
HELALA
b 1992
SALAA EL DINE
gr 1985
AISHA
gr 1985
ANSATA HALIM SHAH
gr 1980
ANSATA MALIKA
gr 1985
SALAA EL DINE
gr 1985
AMEERA
gr 1978
SALAA EL DINE
gr 1985
ANSATA GLORIANA
gr 1986