Marajh KA
Makhnificent KA x Marquisah KA 2008 grey straight Egyptian stallion
Mohamed Jaidah values the inclusion of underused or rare blood into the gene pool of the modern Arabian horse. He selected Marajh KA to put his theories on improving pedigrees into practice by ensuring a variety of exotic bloodlines among the Al Jood collection. "Christie Metz is the one who suggested that I consider the Kuhailan strain stallion Marajh KA as a good outcross for our mares, who are mainly from either her Silver Maple Farm or the Arabians Ltd. Program," Jaidah explains. "His bloodlines are not typically available in the Middle East."
Marajh KA is by Makhnificent KA, a Sultann grandson with additional lines to Sameh through Ibn Hafiza. Marajh's dam, Marquisah KA, has a pedigree littered with famous Straight Egyptian Arabians including the bold-moving Sakr, Tuhotmos, with his chiseled head, Nabiel, and a host of others. The dam line traces back to Rose of Sharon, who was imported to Egypt from England to perpetuate the family of her mother Rodania. Foaled in 1869 in the deserts of Arabia, Rodania had been lost to Middle Eastern breeding when Lady Anne Blunt took her to Crabbet Park Stud, where she founded a dynasty. Rose of Sharon became the root mare for the Egyptian arm of the Rodania family.
Although Mohamed Jaidah values Marajh more as a breeding stallion than a show horse, he placed him in the care of Mike Wilson at his training center in central Florida, USA. Marajh has only been lightly shown, but with Mike on the lead he was named the 2018 Region 12 Champion Stallion. Marajh KA previously stood third to eventual Straight Egyptian Champion Stallion Baha AA at the 2017 Scottsdale International Breeders Classic. According to Jaidah, Marajh is the kind of horse whose photos don't begin to do him justice. "His power, charisma and other positive attributes including his amazing presence are better seen in person," says Jaidah. "He always gives me the impression that he is quite larger in person than in photos. We are very pleased with his first foal crop."
Maraam Al Jood is one of Marajh KA's very first foals, and she quickly proved to be an outstanding example of the quality he sires. At the 2015 Egyptian Event in Lexington, Ky., Maraam Al Jood was named the Futurity Finals Champion Straight Egyptian Yearling Filly in a very tough class of fillies born in early 2014. Returning to Kentucky for the 2017 Event, Maraam was named the Bronze Champion Straight Egytian Junior Mare. More recently, Maraam Al Jood won the Bronze Champion Mare title at the Scottsdale Classic Straight Egyptian Championships. In May 2018, Maraam Al Jood, shown by Mike Wilson, earned Region 12 Gold Champion Mare honors at the same show where her sire was the Champion Stallion.
The success of Maraam is a very important benchmark for Al Jood Stud. It speaks to her caliber as a world-class show horse and highlights the outstanding contribution of her sire Marajh and that of her grandfather Alixir. Her mother, RSL Faith, is an Alixir daughter who is out of the fantastic Thee Desperado mare Rhapsody in Black, making her a full sister to promising sire Bellagio RCA among others. Maraam Al Jood is destined to be enshrined at the heart of the Al Jood Stud.
Currently standing at stud with Wilson Training Center, USA.
http://www.wilsontrainingcenter.com
Bred by Kehilan Arabians, USA.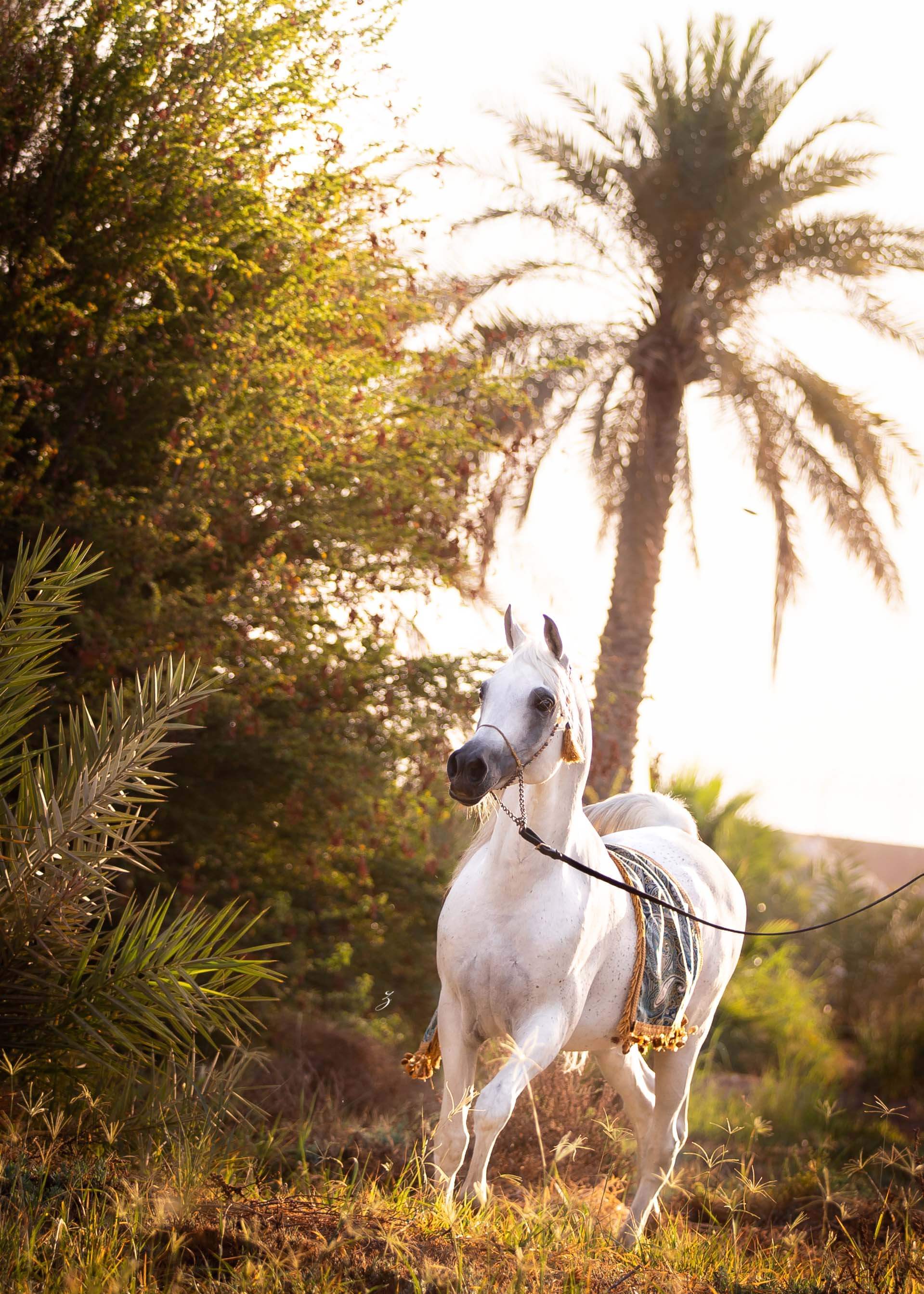 Marajh KA
MAKHNFICENT KA
gr 1995
MAKHSOUS
gr 1979
STAR BINT HAFIZA
b 1986
SULTANN
ch 1961
NABDA
gr 1974
IBN DAHMAN
b 1976
AK AMIRI FAYROUZ
gr 1982
SAMEH gr 1945

LEBNA gr 1953

WAHAG gr 1964

NEAMAT gr 1962

IBN HAFIZA b 1959
DAHMAH SHAHWANIAH b 1966
THE EGYPTIAN PRINCE gr 1967
MAATHER ch 1972
MARQUISAH KA
gr 2001
MARQUIS I
gr 1993
RAHIMAH KA
ch 1995
MAKHSOUS
gr 1979
ANTIGUA DANCE
gr 1987
RA JAHIM
ch 1984
KA SULTAN RAQWA
b 1991
SULTANN ch 1961

NABDA gr 1974

RUMINAJA BAHJAT gr 1977

TALYLA ch 1980

NABIEL gr 1971
MASARRA ch 1972
RAQUIN RA b 1982
THAWRA ch 1972