D Wannas
FA EL RASHEEM X D SAYEDAH 2020 BAY PUREBRED COLT
A Star for tomorrow …
Like people, stars are born. Their birth places are huge, mystical clouds known as 'nebulas'. In our case, the horses are the stars, and the Al Jood stables is their nebula. It is a place of wonderment, where creation happens with a touch of magic and a dash of beauty.
D Wannas is one of those young Stars to have recently joined the Al Jood Stud. This aspiring young colt descends from the breeding program of the Dubai Arabian Stud, where the founder and owner of the Al Jood Stud, Mohamed Jaidah found him and saw the tremendous potential that this young colt could bring not only to the Al Jood program, but the Arabian horse community worldwide. And that has become our goal, to promote and perpetuate him around the globe and enable breeders to incorporate him into their personal programs for their precious mares.
After his second show appearance, he captivated crowds and breeders alike. The hope from breeders to use him for their most beloved Arabian mares is growing rapidly. After many inquiries, the Al Jood Stud has decided to open him for his first breeding season to a limited selection of outside mares, giving several breeders the chance to incorporate Wannas into their program. The limited sale will ensure us to not over-use Wannas during his first season whilst the Al Jood Stud plans to breed some of their very best mares to him and explore his capabilities as a global sire for the future!
Wannas has only been shown at 3 shows to date, and he truly conquered the ring and made his mark. His handler Paolo Capecci did an astonishing job preparing and showcasing Wannas to the judges and crowds. Most recently at the 9th Purosangue Arabi in Bergamo, D Wannas has just been named Gold medal champion in the Yearling Colts Championship. At the fifth edition of the Barcelona C- International show, he took the Gold champion yearling colt title, the Best Head of the show and Best horse in the Show titles in only one go, putting up a brilliant performance that left the jury and the public literally in awe. However, his proud owner Al Jood Stud, Qatar, had already celebrated D Wannas early this year at the Montefalco Arabian Summer Festival 2021, winning his first Gold medal in the yearling colts championship at his first show appearance.
But then, what's the recipe behind all this success?
What makes this young colt so unique and unrivalled each time he performs in the arena?
When it comes to Arabian horses, Dubai Arabian Horse Stud is well known and respected in producing high-quality and sought-after models.  Their home-bred yearling bay colt D Wannas is a living testimony of several years of satisfactorily and extremely successful breeding activity.
A quick look at his pedigree shows us that D Wannas is epitome of such complex and diverse outcrosses, combining the best of modern breeding with a solid foundation of proven Egyptian, Polish, Russian, Crabbet, and Spanish lines. But, delving further in the past, we find connections with old desert-bred ones.
From his sire line, D Wannas (2020) is a son of Dubai Arabian Horse Stud' cornerstone stallion Fa El Rasheem, born in 2011 in the United States and owned by Dubai Arabian Horse Stud (UAE). The sire of Fa El Rasheem (2011) is the breeding phenomenon  Fa El Shawan (2005), a son to the three times World Champion and Leading Sire Marwan Al Shaqab (2000) (Gazal Al Shaqab ex Kajora x Little Liza Fame) and out of the U.S. champion producer mare Foxbriar Shakita (2001) (ZT Shakfantasy by El Shaklan x Selket Mirror by Furno Khamal).
The dam of Fa El Rasheem, namely D Wannas paternal grand-dam, is the aristocratic mare Virtuosa MLR (2001) sired by the iconic Versace (1995) (Fame VF  x Precious as Gold ) and out of the mare Alishahmaal (1992) (Ali Jamaal x NV Alieshah. ).
The sire of Versace was Fame VF (1982), a U.S. National Champion and Canadian National Reserve Champion Stallion, and a son of the legendary sire Bey Shah (1976). His pedigree is a blend of Polish and Crabbet breeding.  In addition to his show ring success, Fame VF was a sire of numerous national champion sons and daughters in halter and performance. Versace's dam was Precious As Gold (1984), the priceless El Shaklan daughter.  Through El Shaklan (1975), Versace inherited his aristocratic Spanish and Egyptian heritage, including one of the most famous dam lines in the breed's history through his great grand-dam Estopa (1965).
Virtuosa MLR's dam, the mare Alishahmaal (1992), is an elegant chestnut daughter to the US-bred exotic sire Ali Jamaal (1982) (Ruminaja Ali x Heritage Memory by El Magato) and out of the Polish mare NV Aliesha (1984) (Bey Shah x Aandraya).
D Wannas' dam is the refined bay mare D Sayedah (2014). To know D Sayedah is to love her. She is a mare of captivating beauty. Her face is arresting, enchanting and seductive. Her eyes are large and round and soft black. Her sire Marajj (2004) is a stunning son of Marwan al Shaqab (2000) (Gazal al Shaqab x Little Liza Fame) and out of the Polish broodmare  RGA Kouress (1995) (Kouvay Bey x Angophora by Eukaliptus).
The dam of D Sayedah is Dubai Arabian Horse Stud's foundation mare Ladi Veronika (2002),  an exceptional daughter by the great Versace (1995) (Fame VF x Precious as Gold by El Shaklan ) and out of the Saklawi I broodmare Nisrs Natevka (1987), the latter a daughter to Ansata El Nisr  (1967) (Ansata Ibn Halima x Ansata Bint Zaafarana) and out of the mare Fez Feather (1977) (Ew Fez x Myecho).
Many breeders believe it was Ladi Veronika who transmitted the "X" factor that has made him so special and set him apart from his other male peers.  Ladi Veronika is a mare of tremendous substance with a stunning body and perfect topline. She has a very feminine face, a long, swan-shaped neck, and she has extraordinary movement. She has contributed her finest qualities to all her 22 children, including D Sayedah, most of whom are multi-garlanded national, international champions and World champions throughout shows around the world.
D Wannas his pedigree offers some of the most beautiful bloodlines in the industry, which have merged into one amazing Arabian that is precious like no others.
When Dubai Stud decided to couple Fa El Rasheem with the feminine D Sayedah, they were sure of getting a colt that would have an impressive impact on the Arabian Horse breeding like D Wannas. But the moment he was born, they realized he was beyond any expectation, and so did the new owner Al Jood Stud when they saw him in the barns for the first time. Everyone that has been involved with D Wannas and the people that have seen him during his first public appearances couldn't be more excited. D Wannas will be standing at stud with Paolo Capecci at Capecci Training Center in Italy for the upcoming show season in Europe.
It is a journey that is only starting to unfold ….
Show results;
– 2022 Milan International Cup – Silver Champion Junior Colt
– 2021 Verona International Cup – Bronze Champion Yearling Colt
– 2021 Italy 9th Purosangue Arabi a Bergamo International show – Unanimous Gold Champion Yearling Colt.
– 2021 Spain Barcelona Costa Brava Int. Arabian horse show – Unanimous Gold Champion Yearling colt, Best head of the show, Best horse of the show.
– 2021 Italy Montefalco Arabian Horse Show Unanimous Gold Champion Yearling Colt.
CA-SCID-LFS CLEAR.
Standing at Capecci Training Center, Italy.

Owned by the Al Jood Stud.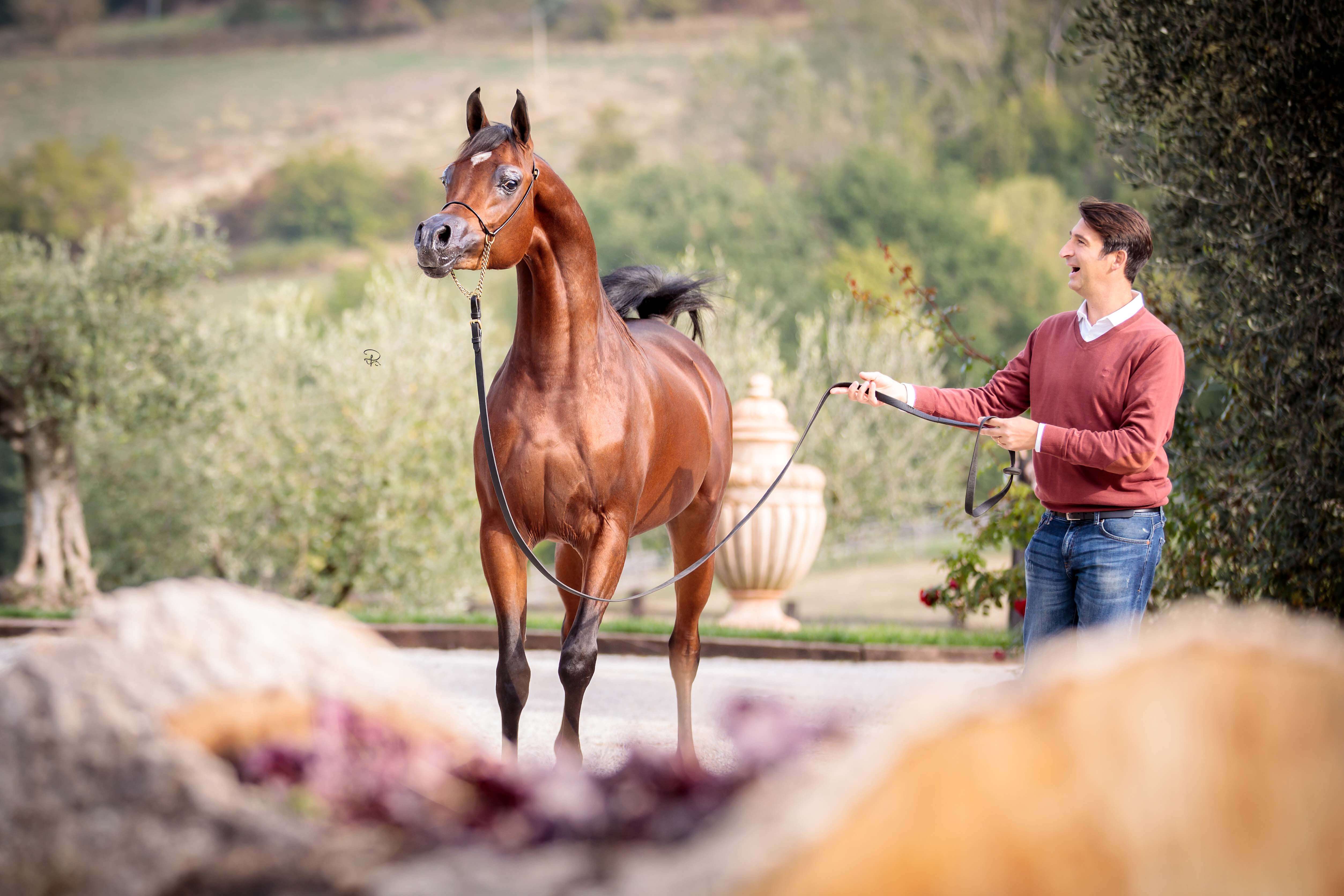 D Wannas
FA EL RASHEEM
b 2011
FA EL SHAWAN
b 2005
VIRTUOSA MLR
b 2001
MARWAN AL SHAQAB
b 2000
FOXBRIAR SHAKITA
ch 2001
VERSACE
b 1995
ALISHAHMAAL
ch 1992
GAZAL AL SHAQAB
b 1995
LITTLE LIZA FAME
b 1987
ZT SHAKFANTASY
gr 1995
SELKET MIRROR
ch 1994
FAME VF
b 1982
PRECIOUS AS GOLD
ch 1984
ALI JAMAAL
b 1982
NV ALIESHAH
b 1984
D SAYEDAH
b 2014
MARAJJ
b 2004
LADI VERONIKA
gr 2002
MARWAN AL SHAQAB
b 2000
RGA KOURESS
b 1995
VERSACE
b 1995
NISRS NATEVKA
gr 1987
GAZAL AL SHAQAB
b 1995
LITTLE LIZA FAME
b 1987
KOUVAY BEY
b 1991
ANGOPHORA
ch 1981
FAME VF
b 1982
PRECIOUS AS GOLD
ch 1984
ANSATA EL NISR
gr 1967
FEZ FEATHER
gr 1977